What is Aerial Hoop?
"Aerial Hoop" or "Lyra" is a hoop suspended on a rope made of very strong material (usually steel or aluminum) and can be hollow or solid inside. Aerial acrobatics on a hoop combines strength, elegance and flexibility. Aerial hoop strengthens the whole body, especially the upper and middle parts, improves balance, range and grace of movement.
Where did aerial hoop originate?
The origins of the Aerial Hoop date back to the 18th century, when it was used more as fun for children. Aerial Hoop became very famous after show Varekai of the Cirque de Soleil in 2002.
What size aerial hoop do I need?
The standard hoop size is 95 or 100 cm outside diameter. These two sizes are suitable for most adult aerialists. The right hoop size is important for better exercise comfort and of course safety. There are two ways to determine the appropriate hoop size:
1. Sit upright on the chair and measure the distance from the seat to the top of your head. Add 10 cm to this number. This method is particularly suitable for beginners.
2. Stand with your entire feet, feet together on the ground, holding your knees out and bending your torso to a right angle. Measure the distance between the ground and your lower back. Add 5 cm to this number. This method is especially suitable for advanced users.
However, these instructions are very general and shouldn't be taken as a strict rules. Every person is different and also depends on personal preferences.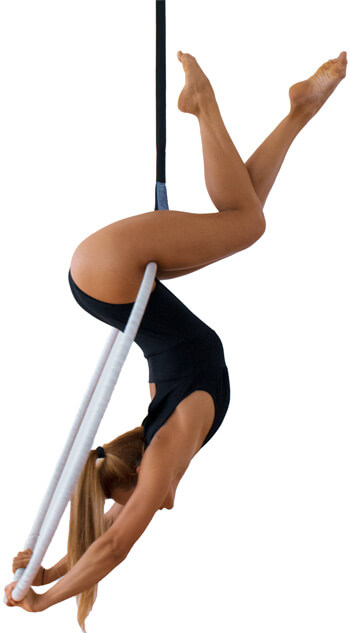 Aerial Hoop for beginners
The Aerial Hoop is divided into Intro, Level 1, Level 2.
INTRO to Aerial - complete beginners without previous experience. In the lesson, the basics of silk and hoop.
LEVEL 1 (L1) - the instructor determines when the student is ready to attend L1 classes, especially after mastering the following tricks:
Delilah
Hocks Hang
Entry into the hoop via Hocks Hang
Man in the moon
Birdie
Cradle
Mermaid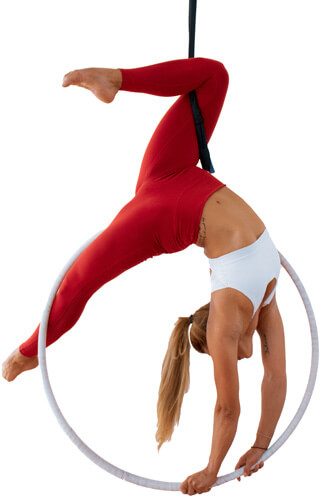 Aerial Hoop for intermediate
LEVEL 2 (L2) - the instructor determines when the student is ready to attend L2 classes, especially after mastering the following moves and their combinations with L1 tricks:
Split under the bar
Star on the bar
Side Amazon
Crab
Mexican
Walking man
Scorpio
Gazelle
Birds nest
Grand split
Arabesque inside / outside
Mermaid inside / outside
Roll down
Aerial Hoop poses names
Nakoľko je vzdušná akrobacia pomerne nová športová disciplína, ktorá sa stále rozvíja a vznikajú nové a nové prvky, ich názvy sa môžu líšiť v závislosti od toho, kde sa ich aerialista naučil.
What to wear to Aerial Hoop class?
The best clothes for Aerial Hoop class are highwaisted leggins, sport bra, lined non-slip shirt or leotard. We practice in socks or knee-high socks (they help to prevent skin under the knees from slipping).
Where to buy an aerial hoop for aerial acrobatics?
If you have the opportunity to hang a hoop at home, that's great! You do not need a high ceiling to hang the hoop. You should train at home only if you already have some classes of aerial hoop behind you. It's great to be able to practice the elements you know at home, or to do strength training exercises so that you don't get out of shape. If you want to buy aerial hoop , you can find everything you need in our e-shop Aerial Fit Shop .