Do you want to know what it's like to fly? Learn the tricks in the air, forget about everyday problems in life and feel like a superwoman? This is exactly what the classes at Aerial Fit Studio are about. It's about having fun and getting a good workout at the same time.
Probably every woman knows what it's like to come to a gym where women give you the look and men bother you. That will never happen in our studio. Aerial Fit Studio has an amazing friendly atmosphere. We are a great team and we help each other during the class.
You don't need to have a certain body shape. It doesn't matter if you are tall, small, slim or curvy. We will help you gain strength, confidence and get into positions you never dreamed of. You won't even know how and after a few months your body will start to change. Thanks to aerial classes :)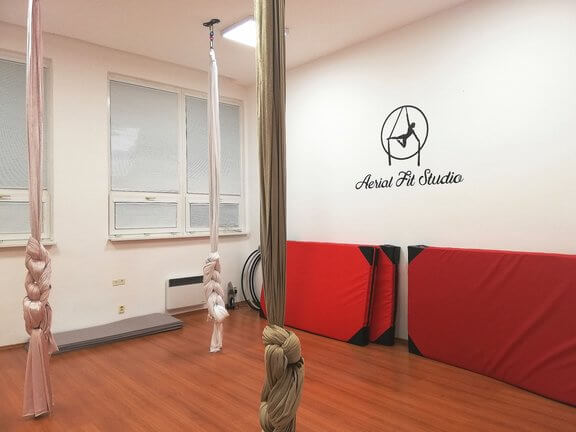 My story
For 11 years I competed in artistic gymnastics. I attended a sports gymnasium and my whole life was dedicated to this sport. After a career in gymnastics I spent a few years practicing aerobic gymnastics which is also a gymnastic sport.
I discovered aerial acrobatics in 2011 when I was looking for something to use my gymnastic skills. Immediately I fell in love with it and practiced almost every day. I wanted to learn as much as possible. It didn't take long and I started to perform in Slovakia and abroad, at gala events, variety shows, acrobatic shows and other events.
In 2016 I decided it is time to pass my aerial skills to other people. I started to offer aerial classes for beginners. Later I obtained the international certificate of Spin City Aerial Fitness instructor and also a personal fitness trainer license. The knowledge I gained through these courses enables me to ensure effective teaching procedures and safe exercising conditions for my clients.
2019 was the year I opened Aerial Fit Studio in Bratislava. I'm on maternity leave right now, and the studio is closed. But that doesn't mean I'm done with aerial acrobatics. I believe that if my responsibilities allow me, I will start training again and I will be able to pass on my experience to you as well. Don´t worry, I will definitely inform you about it! 😉
If you would like to buy aerial silk or aerial hoop you will find everything you need on our e-shop Aerial Fit Shop.