What is aerial acrobatics?
Aerial acrobatics represents acrobatics and dancing in the air on a hoop or a silk. They are hung on a rope or anchored in the ceiling. It is a combination of art and sport, strength and flexibility, dance and grace. In the past, this discipline was only available to exgymnasts, professional artists and acrobats. Today, aerial acrobatics is widespread throughout the world as an effective, entertaining and healthy addictive exercise for everone with multiple benefits.
Is aerial hoop / silk a good exercise?
Yes. Aerial hoop / silk training is beneficial for several reasons:.
Increases strength
Developes flexibility and mobility of muscles
Helps to get a better body shape
Improves posture and grace of movement
Relieves stress
Helps to build self-confidence
It's fun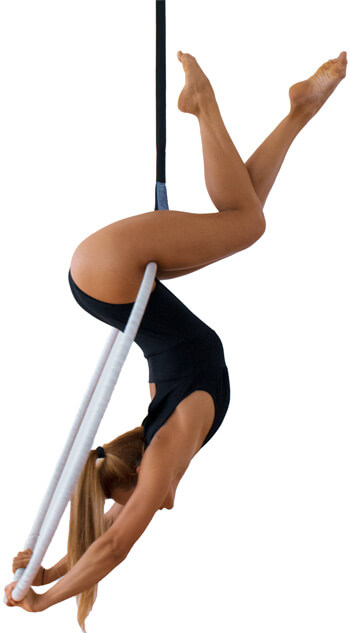 Is Aerial Hoop / Silk hard?
There's nothing to worry about. Under the guidance of an experienced instructor, you can easily learn all the basics and find out what your body can do.
There is no prerequisites when beginning the art of aerial acrobatics. You don't need a perfect shape, know how to do the splits or do 40 pull-ups on day one.
Aerial training demands constant effort and practice. So do the work and find out what amazing things you are capable of.
How to start Aerial Hoop / Silk?
To get started with aerial acrobatics you don't have to have any previous experience with gymnastics or be in excellent physical condition. You'll get it all!
At first, you need to attend an ongoing course for beginners - INTRO TO AERIAL, where you learn the basics of the hoop and the silk. The instructor individually assesses how many hours a student has to complete before moving to HOOP level 1 or SILK level 1. This is assessed individually for each student with respect to their sporting past, current physical condition and other predispositions.
Aerial acrobatics for children
Is aerial acrobatics suitable for children? Certainly yes. Aerial acrobatics helps to acquire the right movement patterns, increase strength, correct posture and improve flexibility. It can be a great base or complement for other sports.
From what age is aerial acrobatics suitable for children? Approximately for children 7 - 8 years old. However, it is individual, as long as the child can be alone in the class without a parent, it is not a problem.

Aerial Acrobatics Bratislava
Aerial Fit Studio is located in Bratislava at Hattalova 12 / A. Instructor Jana Kováčová is a certified aerobatics instructor and professional acrobat performing in Slovakia and abroad. Since 2011 she has been performing in various artistic performances and gala events.
How to practice aerial hoop / silk at home?
The Aerial Hoop can also be hung in some home conditions if supervised by an experienced specialist. However, we do not recommend training without the supervision of an instructor, it can be dangerous! If you still want to practice at home - you can do exercises to strengthen your muscles or improve flexibility. However, we know how difficult it is to get down at home. Therefore we recommend that you regularly attend our conditioning classes - Aerial Fitness and Flexi, then you do not need to exercise at home
Aerial Acrobatics workshops
Workshops are one-off events that usually take place over the weekend and are usually thematic (eg Christmas, Valentine, Easter workshop, choreography, for beginners, etc.).
You can find the actual schedule of workshops on our facebook page or instagram profile (links down of the page). Sign in through the schedule.